Here's To Future Days
Wednesday, March 26, 2008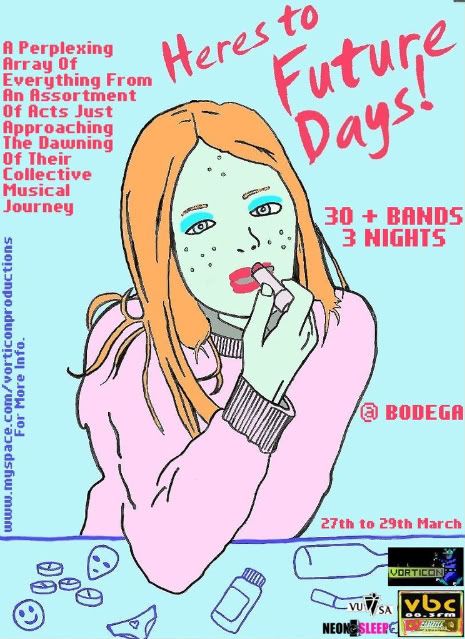 Starting tomorrow night is
Here's To Future Days,
a three day music extravaganza featuring some of New Zealand's best up and coming musical talent. Hosted by the wonderful people at Bar Bodega, and in conjunction with Vorticon Productions, the event features 30 bands across an eclectic range of musical genres. Tickets are $35 for all three nights or $15 per night.
We've selected a few artists who we think you should check out. There's a selection of MP3's available for download and myspace links for all.
SNOWFIELD

Snowfield is Alex Mitcalfe Wilson, a solo musician with a heart for politically-inspired protest music. Taking a minimilist approach, he plays keys, guitar and sings vocals over a range of self-recorded backing tracks.
See Snowfield on Friday 28, downstairs in Bodega 101.
TOMMY ILL

Einstein's favourite New Zealand hip-hop artist will drop his rhymes just after Snowfield. Taking serious subjects and turning them into playful adolescent hip-hop beats, Tommy can be compared quite easily to Lupe Fiasco.
See Tommy Ill on Friday 28, downstairs in Bodega 101.
Tommy Ill– Myspace
Tommy Ill- Toast and Tea Kettles: MP3
CHERRY'S GEMSTONES

The adorable Hannah Cherry has been around the Wellington music scene for several years now. Her riot grrrl style pop/rock offers an opportunity for the not-so-serious hipsters to get their groove on and join Hannah and her band in having a cheeky little laugh. See Cherry's Gemstones on Friday 28, on the Bodega main stage.


HEAT LIKE ME

Electronic act Heat Like Me make sythesised new rave dance pop wrapped up with sweet female vocals. The band's production is super slick, most probably thanks to band member James Goldsmith, who many will know from his sound duties at the San Fransisco Bathhouse. HLM have also worked with Tommy Ill, so you may get to see a little cameo. See Heat Like Me on Friday 28, on the Bodega main stage.


FLICK

Matt Brennan is the psychedelic grime metalist known as Flick. He produces all the music himself using drums, guitars, bass, synth and vocals, and plays free of loops or backing tracks. Flick is one of four Auckland artists visiting for the event. See Flick on Friday 28, on the Bodega main stage.


Techno kids from a technological age, that's one way to describe Alex the Kid. Their Kraftwerk style electro pop will teleport you back to the 1970's, a time when synth pop changed music forever. See Alex the Kid on Saturday 29, on the Bodega main stage.


MORON SAYS WHAT?!?!

The most exciting band of the festival just happen to be four sixteen year old girls from Auckland. The girls' energetic dibly-dably pop is super-duper cute and us at Einstein are their biggest fans. Come and dance with the Morons cose it's going to be so much funnnnn! See Moron Says What?!?! on Saturday 28, on the Bodega main stage.